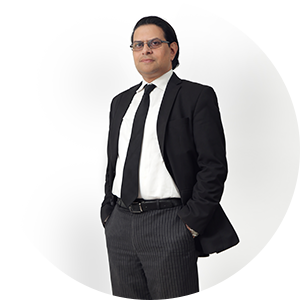 Advocate Supreme Court, Pakistan
LL.M., Harvard Law School
LL.M., School of Oriental and African Studies (SOAS)
M.A. (Cantab), Downing College, University of Cambridge
Salman Akram Raja is an Advocate of the Supreme Court of Pakistan and has around 30 years of vast experience in all forms of dispute resolution. He is particularly recognized for his successful advocacy before the High Courts and the Supreme Court of Pakistan in a number of far-reaching and landmark constitutional, commercial, and corporate cases.
Salman started his practice in Lahore and quickly rose to prominence as a successful practitioner. At an early stage in his career, he acted as counsel in major corporate and commercial disputes as well as constitutional litigations. Later in his career, Salman Raja has acted as lead counsel in a number of regulatory, commercial and tax matters for leading corporations, banks, and public entities. He is regularly called upon to assist the superior courts as amicus curiae on critical legal issues.
Salman frequently acts for and advises private and public sector clients. His clients include major local and international business groups, banks, trade organizations, and corporations. He has particular expertise in the areas of petroleum, gas, and electricity laws, media and telecommunication laws, direct and indirect taxation of domestic and foreign enterprises, private contractual disputes, and disputes arising out of licenses and concessions granted by State entities. He often acts for the All Pakistan Textile Mills Association, the largest trade organization in Pakistan, and its members in matters that cover the entire range of investment and taxation issues. Similarly, Salman acts for the All Pakistan Cement Manufacturers Association and its members. He advises a large number of pharmaceutical manufacturers and has recently represented the Pharma Bureau of the Overseas Investors Chamber of Commerce and Industry (OICCI) before the Competition Commission of Pakistan.
Salman has also represented and advised clients in international arbitrations outside Pakistan. In particular, he has strong experience in arbitrations conducted under the auspices of LCIA and ICC. He also acted as amicus curie in the Lahore High Court in a case involving recognition and enforcement of foreign arbitral awards in Pakistan. He has provided expert testimony on recognition and enforcement of foreign arbitral awards in Pakistan in foreign litigations.
Apart from dispute resolution, Salman advises clients on regulatory matters, privatizations, mergers and acquisitions, corporate regulations, and capital markets, etc.
Salman has been involved in significant legal reform projects in Pakistan. In 2001, as a member of the President's Steering Committee on Higher Education Reform, he helped to draft the Model Universities Ordinance of 2001 that provided for extensive governance overhaul in public sector universities. He has been a member of the Company Law Reform Commission and has also drafted the corporate insolvency and rehabilitation legislation for Pakistan for the Pakistan Banks Association. In 2018, Salman was appointed on the Economic Advisory Council (EAC) constituted by the Prime Minister of Pakistan.
Salman has been a lecturer at the Law Faculty of the Lahore University of Management Sciences (LUMS), the University College Lahore (UCL), and the Government College University (GCU), Lahore. He is regularly invited to give talks on legal and constitutional developments at public forums and is a regular commentator on local and international television channels as well as an op-ed contributor in the press.
Salman is consistently ranked as one of the top lawyers of Pakistan. He has been noted as "a very big name in litigation" in Chambers Asia Pacific. Chambers & Partners recognizes Salman Raja as "an esteemed figure in both constitutional and commercial disputes" known for "his impressive courtroom presence and enviable client roster", who is "thoroughly recommended" because he is "very eloquent and well read, and can talk on any issue of law."
Representing an independent power producer at the Supreme Court against a gas utility company in relation to the recognition and enforcement of a foreign arbitral award of around PKR 800 million (plus interest) issued under the London Court of International Arbitration in London
Representing several beverage and bottling companies in suo moto proceedings at the Supreme Court in relation to the regulatory framework for the extraction of ground water and its fitness for human consumption
Representing Pakistan Banks' Association in a writ petition at the Lahore High Court challenging the validity of Section 15 of the Financial Institutions (Recovery of Finances) Ordinance 2001
Representing several large cement manufacturers and packaging companies in a writ petition at the Lahore High Court challenging the withdrawal of tax exemptions available under Section 65 of the Income Tax Ordinance 2001
Successfully represented the Gilgit Baltistan Bar Council in a constitutional petition at the Supreme Court alleging the denial of fundamental rights and access to justice of Pakistani citizens residing in Gilgit Baltistan (Civil Aviation Authority v Supreme Appellate Court Gilgit Baltistan PLD 2019 SC 357)
Successfully represented one of the largest trade associations of Pakistan in a writ petition at the Lahore High Court pertaining to determination of RLNG prices by the Oil and Gas Regulatory Authority (Ejaz Textile Mills v Federation of Pakistan PLD 2019 LHC 4013)
Represented a leading political party in a constitutional petition at the Supreme Court regarding whether a person disqualified from holding public office can be the head of a political party under the Election Act, 2017 (Zulfiqar Ahmed Bhutta v Federation of Pakistan PLD 2018 SC 366)
Successfully represented the national electronic media regulator in an appeal at the Supreme Court regarding a challenge to the bidding process for broadcasting licenses (MAG Entertainment v Independent Newspapers 2018 SCMR 1087)
Represented certain family members of the Prime Minister of Pakistan at the Supreme Court in a constitutional petition seeking the Prime Minister's disqualification under Article 62 of the Constitution (Imran Ahmed Khan Niazi v Nawaz Sharif PLD 2017 SC 692)
Represented a Pakistani company against an American corporation in an arbitration in London conducted under the UNCITRAL Arbitration Rules
Provided expert testimony as an independent expert witness for Pakistan Steel Mills in the litigation before the courts in British Columbia regarding the recognition and enforcement of foreign arbitral awards in Pakistan (Sociedade-de-fomento Industrial Private Limited v. Pakistan Steel Mills Corporation (Private) Limited 2014 BCCA 205)
Acted as amicus curie before the Lahore High Court in proceedings for the recognition and enforcement of foreign arbitral awards in Pakistan
Represented Air Marshal (r) Asghar Khan in a successful challenge to the involvement of former military officers in the distribution of funds amongst politicians in the 1990 General Elections (Air Marshal (r) Asghar Khan v General (r) Mirza Aslam Baig PLD 2013 SC 1)
Represented a journalists' union in a successful defence of the Seventh Wage Board Award before the Supreme Court of Pakistan (All Pakistan Newspapers Society v. Federation of Pakistan PLD 2012 SC 1)
Represented Dr Mobashir Hassan in a successful constitutional challenge against the National Reconciliation Ordinance (NRO) before the Supreme Court of Pakistan (Dr Mobashir Hassan v Federation of Pakistan PLD 2010 SC 265