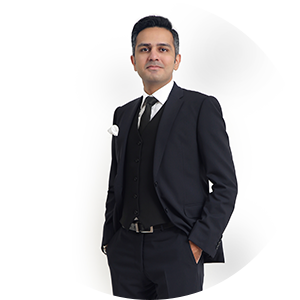 Advocate High Court, Pakistan

Attorney at Law, New York

Registered Foreign Lawyer, Singapore (till 2015)
LL.M., University of California, Berkeley, School of Law (Fulbright Scholar)
B.A.-LL.B., Lahore University of Management Sciences (LUMS)
Umer Akram Chaudhry has over ten years of experience in handling a wide array of work in dispute resolution, transactional, and advisory practices. Qualified as an Advocate of the High Court in Pakistan and Attorney at Law in New York, his primary focus is on domestic and international dispute resolution. He has appeared as counsel before a variety of fora ranging from the Lahore High Court and the High Court of Sindh to international commercial courts and arbitral tribunals in litigations and arbitrations.
Umer started his career as a litigation lawyer at Raja Mohammed Akram & Co. in Lahore, Pakistan, where he was engaged in various commercial and constitutional cases. He was engaged in landmark constitutional cases before the Lahore High Court and the Supreme Court of Pakistan. He also represented clients in regulatory matters before the Securities and Exchange Commission of Pakistan and the Competition Commission of Pakistan.
Later, Umer moved to Singapore and worked at Clyde & Co LLP and Rajah & Tann LLP, both internationally ranked amongst top-30 international arbitration practices. He was engaged in a breadth of cases arising from different common and civil law jurisdictions in South and South East Asia and Middle East. He was primarily involved in commercial, joint venture, shareholders, energy infrastructure, and hotel management disputes. He also worked with a well-known arbitrator in Singapore and assisted him in a number of international arbitrations around the world.
In addition to his disputes practice, Umer maintains an active advisory and transactional practice. He regularly advises businesses with respect to regulatory risks and affairs and represent them before regulatory bodies in Pakistan. He has also acted for clients in complex contractual negotiations, drafting, and execution and advised them during the performance stages and in settlement discussions.
Umer is a member of the Adjunct Faculty at the Shaikh Ahmad Hassan School of Law at the Lahore University of Management Sciences (LUMS), where he delivers courses on international commercial arbitration and civil procedure. He writes on topics related to international arbitration and dispute resolution for various publications on regular basis and has been invited to various conferences to speak on legal issues. He is the co-author of the Pakistan Chapter of GAR Investment Treaty Know-How for the Global Arbitration Review and the Pakistan Chapter for the Global Arbitration Places Guide prepared by the Delos Dispute Resolution.
Umer primarily practices from the Lahore office of Raja Mohammed Akram & Co.
Represented a leading manufacturer of large diesel engines and propulsion systems and distributed power generation plants from Germany and its regional distributor in Middle East before the High Court of Sindh in proceedings related to the termination of service partnership agreement with the local service partner in Pakistan
Represented a major global oil and gas exploration company from Netherlands in a dispute with the EPCC contractor arising from the construction of a gas field surface facilities project, involving claims and cross-claims of more than US$ 32 Million, before the courts in Lahore
Representing an independent power purchaser against a public sector company in relation to the recognition and enforcement of an arbitral award of around PKR 800 Million (plus interest) issued under the auspices of the London Court of International Arbitration in London before the Lahore High Court
Representing a Japanese company in a shareholder dispute and winding up proceedings before the Lahore High Court in relation to a company owning various hospitality projects in Lahore, Pakistan
Representing a Swiss entity, which provides independent assessment, testing, and certification services, for the enforcement of its trademarks and other intellectual property rights against multiple leather and textile manufacturers, retailers, and distributors in Pakistan
Represented one of the leading real estate companies in Pakistan in an arbitration against the company from the Cayman Islands arising from an aircraft sale and purchase agreement conducted under the rules of the Swiss Chambers' Arbitration Institution in Geneva, Switzerland and governed by the laws of Switzerland
Represented a Singapore company against a consortium of private equity firms in two arbitrations under the SIAC Rules in Singapore for an estimated claim and counter-claim of around US$600 million, involving construction of two major power projects in India, arising from shareholders' agreements governed by Singapore law
Conducted a comprehensive due diligence of a company incorporated in Pakistan holding licenses for granite and marble mining in Khyber Pakhtunkhwa, Pakistan on behalf of a private equity investment firm incorporated in Delaware, USA and advised on the share subscription agreement for an investment of around US$ 3 million
Advising an EPC contractor from China in relation to disputes with owners/employers (and potential arbitrations) arising from EPC contracts for the construction and development of two power plants and generation facilities (with a collective generation capacity of more than 2,400 MW)
Advised one of the leading global energy drinks company incorporated in the United Kingdom in relation to their product launch in Pakistan and, in particular, with respect to the food regulations applicable in Punjab, Sindh, Balochistan, Khyber Pakhtunkhwa, and Islamabad