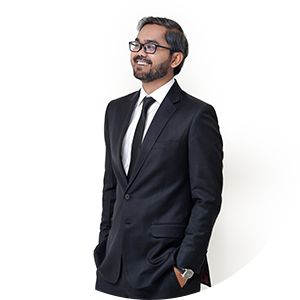 Advocate High Court, Pakistan

Attorney at Law, New York
LL.M., Columbia University (Fulbright Scholar)
B.A.-LL.B., Lahore University of Management Sciences (LUMS)
Basil Nabi Malik is a Partner and the Head of Raja Mohammad Akram & Co's Karachi Office. He is a registered Attorney at Law in the State of New York, U.S.A, and an Advocate of the High Courts of Pakistan. He began his practice of law in 2009 with a particular focus on constitutional and commercial litigation. Prior to joining Raja Mohammad Akram & Co, Basil was a Partner at MCAS&W Law Associates (formerly known as Muneer A. Malik & Co.).
Basil maintains expertise in constitutional matters, tax matters, disputes in relation to civil and commercial transactions, as well as intellectual property law. Over the years, Basil has accumulated significant experience in cases of constitutional import, and particularly in challenging the vires of various laws on the touchstone of the Constitution, including certain provisions in the Finance Act, 2019, amending the Income Tax Ordinance, 2001 (dealing with tax credits on investments in plant and machinery), the Sindh (Repeal of the Police Act, 1861 and Revival of Police Order, 2002) (Amendment) Act, 2019, Gas Infrastructure Development Cess Act, 2015, the MBBS and BDS (Admissions, House job and Internship) Regulations, 2016, as well as the Sindh Travel Agencies Act, 2011.
Basil has been engaged in and has successfully tackled banking, commercial and shipping cases pertaining to the encashment of bank guarantees, payment disputes under negotiable instruments, short-landing of cargo at ports, and ownership of consignments vis à vis Bills of Lading. Basil has considerable experience in handling infringement proceedings pertaining to intellectual property disputes, and has represented numerous parties in registration cases, and intellectual property disputes before the Intellectual Property Tribunal and the High Court.
Basil has a wide civil law practice in other areas of the law as well, such as anti-dumping laws, labour and employment matters, taxation, election disputes, corporate governance and competition law. He has also successfully represented various clients in white-collar criminal litigation, including bail proceedings in relation to NAB, FIA and Anti-Terrorism offences.
In addition to this, Basil regularly advises organizations, including Pakistan Petroleum Limited, Travel Agents Association of Pakistan (TAAP), United Medical and Dental College (UMDC), Pakistan Steel Mills (PSM), and the House Building Finance Company Limited (HBFCL), on matters relating to contract management, shareholders' agreements, tender documents for procurement of supplies, due diligence, corporate governance and regulatory compliance.
Basil has over eighty-five publications in various newspapers including the Daily Dawn, the Daily Times, and the Journal of Applied Economy.
Successfully represented Pakistan Petroleum Limited in a public procurement matter in which an unsuccessful bidder had sought to challenge the bidding process pertaining to the provision of vehicles at Kandhkot gas field
Successfully represented Forte Pakistan Private Limited in proceedings related to the encashment of a bank guarantee securing a contract for the installation of an industrial scale generator set
Successfully represented Pakistan Petroleum Limited in a civil suit before the High Court of Sindh at Karachi in relation to a contractual claim amounting to PKR 90 Million
Represented a public-spirited citizen in a petition challenging the legality of the election of Mr. Nasir Hussain Shah to the Provincial Assembly of Sindh on the grounds that he is disqualified from being a member of the Sindh Assembly
Representing various members of the All Pakistan Textile Mills Association (APTMA) in challenging the insertion of amendments to Section 65B of the Income Tax Ordinance, 2001 (dealing with tax credits on investment in plant and machinery), vide the Finance Act, 2019; interim relief has been granted in favour of the clients
Successfully represented House Building Finance Company Limited (HBFCL) in an employment matter before the High Court of Sindh at Karachi; the dispute related to the withdrawal of promotion orders by the management of HBFCL
Successfully representing over 50 CNG Stations in challenging the constitutionality of the Gas Infrastructure Development Cess (Amendment) Act, 2018, (the disputed amounts were in excess of PKR 100 Million) before the High Court of Sindh at Karachi; interim relief has been granted in favour of the clients
Represented large paper manufacturers/mills in anti-dumping litigation at the Anti-Dumping Tribunals and at the High Court of Sindh; the amounts in dispute were in excess of PKR 150 Million
Representing China Power Hub Generation Company (Private) Limited before the Environmental Protection Tribunal against a complaint filed by the former Balochistan Assembly Speaker who is seeking the closure of the 2×660 MW coal-based power projects
Represented Shehri, amongst other parties, against the Karachi Grammar School, Convent of Jesus and Mary, and the Civil Aviation Authority, in a civil suit filed at the High Court of Sindh in relation to the illegal conversion of an amenity park plot into a school, school yard, as well as a squash complex; interim relief was granted in favour of the clients