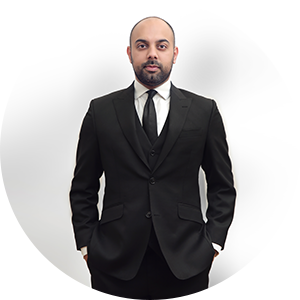 Advocate High Court, Pakistan

Barrister at Law, Lincoln's Inn (2009)
LL.B. (Hons), King's College London
LL.M., University of Leiden
Bar Vocational Course (BVC), BPP Law School (London)
Asad Ladha is an Advocate of the High Courts of Pakistan and was called to the Bar of England and Wales (Lincoln's Inn) in 2009. After the completion of his legal studies Asad practiced as a litigation lawyer in London, UK. In addition, Asad has also previously acted as a Legal Adviser to the Ministry of Justice, UK.
Asad has a broad practice encompassing commercial, tax, constitutional and general civil litigation. He acts for a wide range of clients, including multinationals, government and public bodies, non-governmental organizations and private individuals. He regularly appears before, and has also represented, a number of regulatory bodies including the State Bank of Pakistan (SBP), the Competition Commission of Pakistan (CCP) and the Securities and Exchange Commission of Pakistan (SECP).
Asad acts and advises on a range of commercial issues and in particular has experience of shareholder disputes, applications against directors, applications under the Companies Act 2017 and Insolvency proceedings. Within his Commercial practice, Asad has represented clients from a number of industries including Banking, Cement, Food and Beverage, Oil and Gas, Manufacturing, Pharmaceuticals, Telecommunications and Textiles.
Asad has extensive experience in Oil and Gas sector litigation. He has previously advised and acted for a number of oil and gas companies in relation to their contractual disputes with their Joint Venture partners over the interpretation of, and compliance with, Crude Oil Sale Agreements (COSAs), Petroleum Concession Agreements (PCAs) and Joint Operating Agreements (JOAs). Asad has also successfully represented a major multi-national oil and gas company in complaints filed against them by the Environmental Protection Agency before the Environmental Protection Tribunal, Khyber Pakhtunkhwa (KPK).
Asad has built up a considerable practice in the public procurement sector. He has previously acted for a consortium comprising local and foreign companies in litigation relating to the procurement process conducted by the Civil Aviation Authority for the award of licence to deploy, operate and maintain a Common Use Passenger Processing System and Baggage Reconciliation System in airports throughout Pakistan.
Due to his experience of both Pakistani and foreign jurisdictions, Asad has built up considerable expertise in contentious civil, commercial and tax matters with an international element. For example, he has recently advised and represented a large state-owned Chinese energy company in relation to a multimillion-dollar contractual dispute with the Oil and Gas Development Company Limited (OGDCL). In addition, Asad currently acts for a major Chinese energy company in a substantial multimillion-dollar tax dispute concerning the question of what constitutes Pakistan source income of a foreign company for income tax purposes.
Asad also has a wealth of experience in conducting local arbitrations in Pakistan under the Arbitration Act, 1940. He has previously represented a major oil and gas company in a multimillion-dollar dispute with its Joint Venture partner and has also represented a major Chinese company in its dispute with the Oil and Gas Development Company Limited (OGDCL) worth more than US$50 million regarding imposition of liquidated damages and encashment of bank guarantees due to alleged delays in the completion of an LPG Gas Processing Plant.
Asad has served as an Editor of the prestigious International Organisations Law Review published from the Netherlands. He has also contributed to the book titled "International Institutional Law" (Martinus Nijhoff Publishers). Asad has previously been a member of the visiting faculty at The Institute of Legal Studies (TILS), Lahore where he lectured in Human Rights and Public Law.
Asad heads the Islamabad office of the firm.
Represented a major oil and gas exploration company in an Arbitration under the Arbitration Act, 1940 with one of its Working Interest Owners arising out of a Joint Operating Agreement and Petroleum Concession Agreement involving claims and cross claims of more than US$10 million.
Representing the oldest oil refinery in Pakistan before the Honourable Islamabad High Court challenging the retrospective imposition of a Premium by the Oil and Gas Development Company Limited (OGDCL) of approximately Rs. 1.8 billion. Interim injunctions have been granted by the Honourable Islamabad High Court against the said demands.
Representing one of the largest textile mills in Pakistan in a number of cases against Sui Northern Gas Pipelines Limited (SNGPL) in challenges made under the Gas (Theft, Control and Recovery) Act, 2016 against gas bills issued to the mill exceeding Rs. 400 million.
Represented a major multinational Oil and Gas Company before the Khyber Pakuhtunkhwa Environmental Protection Tribunal and the Honourable Peshawar High Court in which we successfully persuaded the High Court and the Tribunal to set aside criminal complaints initiated by the KPK Environmental Protection Agency under the KPK Environmental Protection Act against the CEO of the Company.
Represented a major state-owned Chinese company in its contractual dispute with the Oil and Gas Development Company Limited (OGDCL) involving claims and crossclaims worth more than US$100 million relating to an EPCC Contract for an LPG Gas Processing Plant, before the Civil Courts, Islamabad and the Islamabad High Court.
Represented the beneficiaries of a disputed will executed in Pakistan by a British national in which the assets of the estate were situated in the UK, in litigation before the learned Civil Court, Lahore involving multi-jurisdictional issues which were simultaneously being litigated before the courts in Lahore and the High Court of Justice, United Kingdom (Queen's Bench Division).
Representing a major oil and gas exploration company and its directors in two (2) Writ Petitions and three (3) Companies Original Petitions before the Companies Bench of the Islamabad High Court wherein allegations of oppression and mismanagement have been raised by a minority shareholder of the company. The issuance by the Company of a further Rs. 40.32 million worth of shares is also under challenge by the minority shareholder in the said Petitions.
Represented the leading security and logistics group in Pakistan in an arbitration involving claims and crossclaims worth over US$3 million relating to disputes arising out of an agreement to supply trucks used for transportation.
Represented a major Chinese company before the High Court of Balochistan in a Writ Petition challenging the retrospective imposition of sales tax by the Balochistan Revenue Authority (BRA) following an amendment in the Balochistan Sales Tax on Services Act.
Advised and acted for the Pharma Bureau, an association of multi-national pharmaceutical companies, before the Competition Commission of Pakistan and secured the setting aside of a show cause notice which had raised allegations of price fixing and collusion.