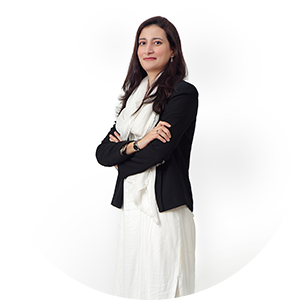 Advocate High Court, Pakistan

Barrister at Law, Lincoln's Inn (2011)
Bar Professional Training Course, City Law School
LL.B. (Hons), University of London
B.A. in Economics and Comparative Literature, Dartmouth College
Aneesa Agha leads the transactional practice at Raja Mohammed Akram & Co. She has significant expertise in the banking, finance, energy and infrastructure sectors, particularly in relation to greenfield projects. She has acted for foreign and local clients on mergers and acquisitions and capital structuring specifically with regards to the regulatory regime and foreign exchange framework. Recently, she has acted for one of the biggest banks in Pakistan in the divestment of its wholly owned subsidiary, including review and execution of share purchase agreements and regulatory compliance.
She regularly advises clients on various aspects of the project life cycle from initial project development to negotiation and execution of project agreements to operational challenges and disputes. She has represented clients in complex transactions including power purchase agreements, transmission services agreement, government concession documents, EPC contracts, operation services contracts, shareholders' agreements, and financing agreements. Aneesa combines her knowledge of the law and the power sector to offer bespoke and creative solutions to her clients which become the industry standard, such as devising an innovative tariff structure for solar power projects and developing bankable corporate power purchase agreements for wheeling arrangements for sale of electricity to bulk power consumers.
Aneesa's arbitration and litigation experience spans commercial, constitutional, energy, environmental, water and natural resources law. She is actively involved with several environmental and climate change related cases at the Lahore High Court. She also serves as the Co-Chairperson on the Lahore High Court Bar Association Environment Protection and Climate Change Committee (2019-2020). Her pioneering climate change public interest litigation has allowed her to advise climate-conscious multinational and local companies on formulating legal strategies for realigning their businesses in an evolving regulatory environment within Pakistan.
Aneesa is a leading member of Women in Law Pakistan, the Lahore High Court Bar Association Equality and Diversity Committee and Arbitral Women. She has co-authored several papers on arbitration, including the Pakistan chapter of the Delos Guide to Arbitration Places (2018-2019) and a research paper titled 'State Sovereignty and Investment Arbitration' which was published in the Report on the International Judicial Conference, 2012.
Advised several Nishat Group companies on shareholders' agreements, multiple EPC contracts, security documents and ancillary project agreements for establishing an automotive assembly plant for Hyundai Motor Company vehicles and parts in Pakistan
Represented the national grid operator in negotiations relating to the transmission services agreement, land lease agreement, and O&M services agreement with a subsidiary of the State Grid Corporation of China for setting up a 4000 MW Matiari-Lahore Transmission Line Project worth over US$1.5 Billion
Represented a large textile conglomerate from South Punjab in the acquisition of equity stakes in a 50MW solar IPP and a 200MW gas-fired IPP, and conducted due diligence, review of the project financing documents and post-transaction compliance
Advised MCB Bank Limited in relation to the amalgamation agreement with NIB Bank Limited for submission to the State Bank of Pakistan for approval under Section 48 of the Banking Companies Ordinance 1962
Represented an American private equity investment firm and conducted due diligence of a Pakistani company holding licenses for granite and marble mining in Khyber Pakhtunkhwa, Pakistan for potential acquisition
Acted as investor counsel on the first ever private sector solar IPP in Pakistan at various stages of project development, including shareholders' agreement, review of financing documents and concession agreements
Represented and advised small hydropower IPPs in negotiations with PPIB and the power purchaser in relation to the standardised energy purchase agreement, water use agreement, and implementation agreement for small hydro projects in Azad Jammu & Kashmir
Representing a fertilizer company in proceedings at the Lahore High Court in relation to the regulatory framework for the control and utilization of water resources by the provincial government (ongoing)
Acting in a public interest litigation challenging state inaction on climate change in relation to mitigation measures under the UNFCCC Paris Agreement 2015 (ongoing)
Represented property owners in a constitutional challenge to the luxury tax imposed through the Punjab Finance Act 2014 (Muhammad Khalid Qureshi v Province of Punjab 2017 PTD 805 Lahore)
Represented civil society members in a successful constitutional challenge to the construction of the signal-free corridor on Main Boulevard, Lahore (Imrana Tiwana v Province of Punjab 2015 PLD 522 Lahore)